There's an event at the Grad School of Education about children's literature!
Premiere of
Library of the Early Mind
Tuesday, October 19, 2010, 5:30 – 8pm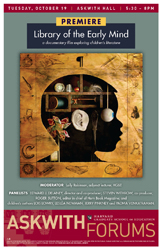 Location


13 Appian Way
Cambridge, MA 02138

Type of Event

Discussion, Film, Forum, Question & Answer Session, Reception

Building/Room

Askwith Hall

Contact Name

Amber Haskins

Contact Email

askwith_forums@gse.harvard.edu

Contact Phone

617-384-9968

Sponsoring Organization/Department

Harvard Graduate School of Education

Registration Required

No
Premiere of Library of the Early Mind
Moderator: Lolly Robinson, adjunct lecturer, HGSE
Panelists: Filmmakers Edward Delaney and Steven Withrow; Roger Sutton, editor in chief of Horn Book Magazine; and children's authors Lois Lowry, Lesléa Newman, Jerry Pinkney and Padma Venkatraman.
Library of the Early Mind is a documentary exploring the impact of children's literature. A Q&A session, book signing and reception will follow the screening.
http://www.gse.harvard.edu/news_events/events/index.html#/?i=1
Discuss: Which children's writer or book has had the most impact on your life?